Drums Along the Mohawk
Woah! Technicolor!

This is a little gem of a movie. Directed by John Ford, it stars Henry Fonda and Claudette Colbert, and tells the story of colonists in New York caught up in the events of 1776. For us Europeans with sketchy knowledge of American history, that's the American War of Independence, where Washington kicked our butts and the Americans made themselves a separate country. Or the Revolution as they call it. Take your pick. I'm not fussy. Fonda & Colbert have their farm trashed by Indians, he goes off to join the militia, and eventually they find themselves under siege in a fort. (Full synopsis on Wikipedia.) It was refreshing to see a story set in this period, as it's not one that's covered as often as the Civil War or the Wild West. In recent years, the only movie I can think of that covers this is The Patriot, which is far more political and gritty.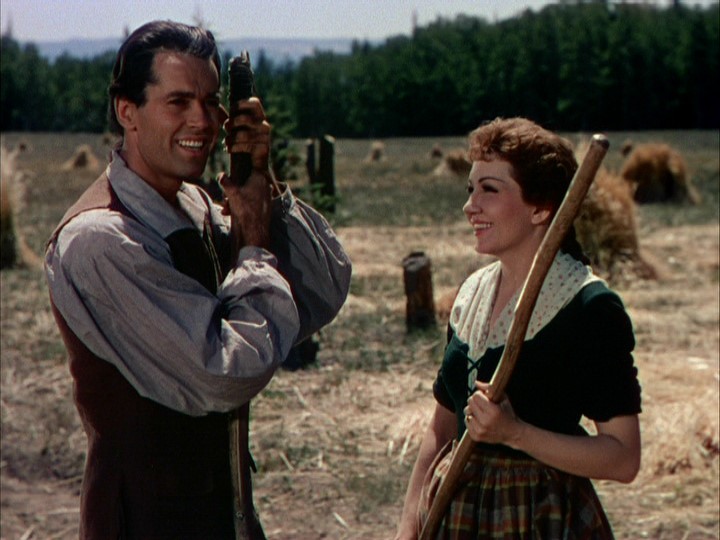 Idyllic rural harmony - but not for long.

What struck me immediately was that it was in colour. The DVD box on the British release makes it look black and white, and the only stills I had seen were black and white, and given the release date of 1939, that's what I was expecting. The sudden smash of Ford's first ever use of Technicolor was a welcome surprise, and from there on in, Ford's beautiful eye for a great picture was undeniable. Drums was nominated for an Oscar for its cinematography, and deservedly so. It lost out to Gone With The Wind, which is hardly a surprise, but they're definitely both in the same league.
Compare the British and American DVD packaging. Why is the UK one so misleading and dull? Even the stills on the back of the UK box are black and white.

As the film went on, I came to realize that the stand-out performance wasn't coming from the two leads. While it was fun to watch a young Henry Fonda (who I normally think of in his roles in Once Upon a Time in the West or 12 Angry Men), he was being acted off the screen by the aged Edna May Oliver, appearing in almost her final film. She plays a feisty widow who offers Fonda and Colbert a place to live after they lose their home, and she's one hell of a character. There's a great scene where Indians set fire to her house, and she stubbornly stays in her bed, demanding that they carry her – and the bed – out to safety. Magnificent stuff.

She was nominated for an Oscar for Best Supporting Actress, but lost out to (wouldn't you know it) Hattie McDaniel for her role in Gone With The Wind. (Trivia buffs: Hattie McDaniel was the first black person to be nominated for an Oscar, let alone win one.)
Above, Edna May Oliver. Below, Hattie McDaniel with Vivien Leigh. (And yes, another black and white still from a colour movie.)

Incidentally, Ford did get an Oscar nomination as Director that year, but for Stagecoach, rather than Drums. He lost out to… yeah, you got the idea. 1939 must have been a depressing year for so many people, finding themselves up against That Film.
There's no reason to show this except that I like the poster.
For me, the best sequence of the movie is where Fonda goes off to fight his first battle. He heads off with the militia, leaving his wife waving him goodbye. Then, the next scene is them all coming back from the fight, wounded, tired, and in need of shelter. For a few minutes, I felt cheated. I expected to see a battle sequence, and Ford did it all off-screen. Then we cut to a delirious Fonda, and gradually the story of the battle comes out of him, disjointedly, just as a series of vocal flashbacks and impressions. The result is surprisingly powerful, as your own imagination fills in the horrors of war in a way that you just couldn't do on-screen in 1939. Not that Ford's shy of making battle scenes – Drums has plenty of those too.
Intense action as Indians attack. In black and white.

Drums makes for great Saturday afternoon matinee watching. It's undemanding, entertaining, and carries you along nicely for a couple of hours. It has action, romance, and Ford's characteristic gentle touch. Thoroughly enjoyable, and undoubtedly one of the very best of Ford's 144 films. If it hadn't been for Rhett & Scarlett, this would probably be much better known.