It's kinda traditional for Europeans to take the piss out of Americans for being, how shall we put it politely, fat. Well, just try living here. Honestly, it's not their fault. Even if you avoid all the nasty greasy fast food, there's so much good eating on offer it's impossible to maintain a svelte figure without spending four hours a day in the gym. 
I've become a regular at the local farmer's market on Saturday mornings, where I load up with aubergines (eggplant) & courgettes (zucchini) as well as top quality honey, and oranges, and then feel morally obliged to stuff myself with cinnamon buns and Venezuelan pastries.  And then we've been working our way through the enormous Vietnamese supermarkets and filling the freezer with dim sum. Our current favourite is the Saigon market, which has a counter of unbelievably tasty French-style Vietnamese pastries. And, of course, there's now a Spice & Tea Exchange in Winter Park, so we have Pirate's Bite and salmon tea rub. So cooking's pretty much covered.
When it comes to eating out, there's loads of choice.  Highlights so far include:
The Enzian. OK, it's a cinema, not a restaurant, but the menu there is impressive. You don't get a huge portion, but it's really delicious stuff.  Just check out the meatball sandwich, for example.  Meatballs made with grass fed bison and fresh local pork, truffle parmesan tomato sauce, sauteed shiitake mushrooms. I mean, c'mon, how can that be bad?   Eating this while watching a movie makes for a great date.  The selection of wines and beers is pretty reasonable, but the absolute killer is the manchego cheesecake. It's cheesecake turned up to 11. It was a real struggle to finish one portion between two of us. 
The Black Bean Deli. This isn't eating out, in that there's nowhere to sit, so if you want to get picky, yeah, it's take-away. (Or take-out, as I'm learning to call it.)  This is the best Cuban food I've ever had.  Well, if I'm honest, it's the only Cuban food I've ever had, but everyone tells me it's the best I'm ever likely to find anywhere outside Cuba. The medianoche is filling and yummy - ham and cheese on Cuban sweet bread, and the chorizopan is similar, but with chorizo instead of ham.  One of their sandwiches for lunch, with a tub of rice and black beans, and then a flan to follow... oh yeah!  I can see this becoming a regular mid-week thing.  Set something rendering or uploading, a 10-minute drive down 17/92, grab myself a bag full of Cuban goodness, and then not bother with dinner.  No, really, no more food today.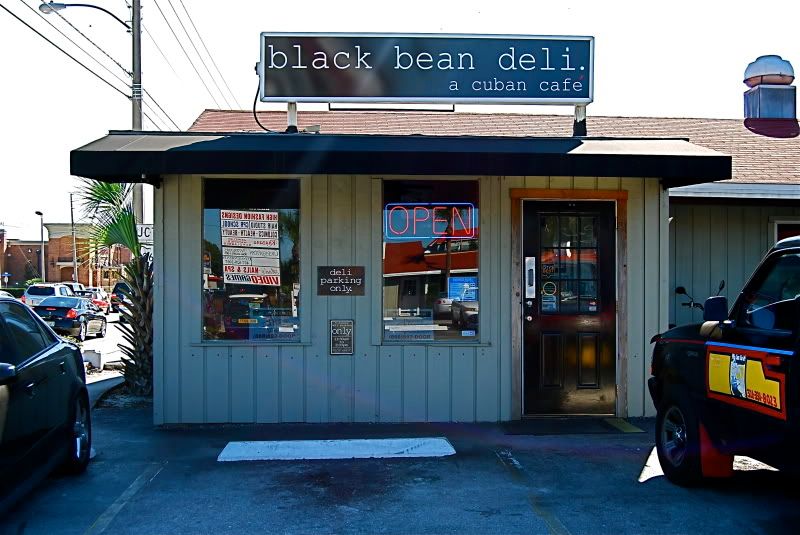 El Bodegon. My benchmark for good tapas is whether it's as good as the Tasting Room in St Augustine. El Bodegon most certainly passes that test.  Tapas isn't really their speciality, but like any good Spanish place, they have a good selection on offer. Not so great for vegetarians - if you're OK with seafood, you'll be fine, but you really need to be a carnivore to enjoy this place. We munched our way through five plates with a pitcher of sangria.  The serrano ham was some of the best I've ever tasted, the patata bravas were just perfect, and the garlic mushrooms were succulent and mouthwateringly mushroomy. The piece de resistance, though, was the chorizo flambeed in brandy. Chorizo is good anyway, and I love the effect of pouring liquor on food and setting fire to it. We'll definitely be going back there for evenings when we can't decide what to eat and fancy a little bit of everything.  
The Nile Ethiopian Restaurant. No prizes for guessing the speciality of this place tucked away off I-Drive. Ethiopian food is quite unique, and something I love.  It's good communal finger food: it comes on a big tray, with piles of different dishes, and you eat it by scooping it up with pieces of pancakey sourdough bread. When it arrives, you wonder whether you've ordered enough. Two thirds of the way through, you wonder whether you can finish it all. The yasa tibs (fish) is truly gorgeous, the doro wat (chicken stew) is total yumminess, and I seriously recommend the veggie combo, even if you're not a veggie. Don't skip the coffee. They roast the beans right there, and then bring the pan round for everyone to have a sniff. It's the best coffee I've had that isn't Turkish. Try it if you're looking for a friendly meal with friends that's a bit out of the ordinary.
And there's more...  Urban Flats had a variable selection: basically posh pizza, the good ones were good, and the rest were mediocre.  Chipotle is just a Mexican fast food chain, but they do a damn good pork burrito, and it's all free-range, hormone-free meat, so it's actually good food, just served fast.  Tomorrow, we have a big family meal at Buca di Beppo, where I intend to eat pasta and chicken saltimbocca until I look like Luciano Pavarotti  Next, I need to try the various steakhouses (Ruth's Chris and Colorado's both recommended, for completely different reasons), and find myself some catfish and some grouper, and at some point I really need to get back to the bagel place...
We've been making the most of coupons from restaurant.com. Basically, you buy a $25 coupon for $10, so there's an instant saving of $15.  But it gets better. As the month goes on,they discount the coupons that haven't sold yet, and you can pick up a $25 coupon for $2.  We just spent a mighty $10 to buy ourselves $125 off in various St Augustine restaurants which we intend to use in about a week while we're on honeymoon.  And yes, that includes the Tasting Room. 
Oh, God, please can I have just a salad now? Before I explode?
The Pope Room in Buca di Beppo. Look, that's the Pope in the middle of the table. Holy spaghetti,  Batman!