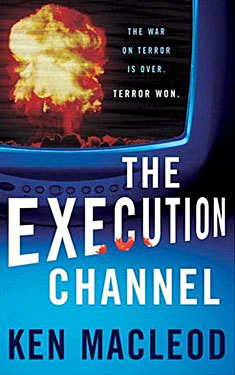 I had the strange experience today of giving up on a book 20 pages from the end. It was a harmless enough book,
The Execution Channel
, a thriller about a series of terrorist attacks in Britain - or are they in fact the start of World War Three? It's billed as science fiction, but it's not really what I generally think of as SF. It's in a slightly alternate universe (Gore won), but otherwise it's just technically literate: these people communicate via blogs, understand the net, and so on. Anyway, that's not the point.
I read some of it last night, and then carried on this morning. About an hour before starting work, I got up to make coffee, and by the time I got back to bed, I realised I didn't actually care about what happened in the end, and couldn't be bothered to read the last 20 pages. That's a really odd feeling. I mean, having got that close to the end, why not finish? Or if I really wasn't enjoying it, why didn't I give up earlier and read one of the other dozen library books by the side of the bed?
I'm actually very intrigued by what it is that makes us decide to give up. How long do we persist with a book or a movie before we decide it's not worth going on? What is the trigger point that causes us to make that decision? If you quit too early, you miss out on all those experiences where the start's a bit slow or a bit lame, but once you get into the characters or the story, it's a thoroughly enjoyable experience. And what about those acquired tastes - movies or pieces of music that you don't much like at first, but gradually grow on you - how many times are you prepared to sit through something you don't like in the hope that it'll start to become enjoyable? (Like Shostakovich string quartets or 1950s French movies.)
This is hugely important for what's happening with TV. Many shows take a while to get into. The first few episodes of a new show are often slow, while you're getting into the characters. Firefly and Dollhouse were both good examples. So you watch 4 or 5 eps, it's looking OK but nothing great - do you continue? You've just spent 4 hours on this show, and you're not really enjoying it. That's a big investment of time, and logic says give up. So you give up. Viewing figures drop, and the network immediately respond by canceling the show. Meanwhile, the hardcore continue, and then the word of mouth starts to go out that it's worth persevering, because by ep 7 it gets brilliant, but it's too late, and you kick yourself for not sticking with it, and everyone screams at the dumb network for canning such a superb show. Well, that's scenario 1. Scenario 2 is where it doesn't get any better, and you mentally file it under Shit I've watched on TV when bored out of my skull.
TV networks are desperately chasing ad money, and that means having to respond very fast to audience figures. If people stop watching a show, they'll can it within weeks. With so much available at the click of a mouse these days, you only have to lose your audience for a few moments and they're gone elsewhere. That's a harsh world to be in. So, for a writer, or anyone else creating entertainment, it's critical to understand what it is that makes us decide not to watch the next episode, or not to turn the next page. I don't think anyone's figured that out yet, except perhaps the teams behind X Factor and the like. Part of their secret is that they're working live, so they can judge the audience on a day by day basis, and adjust their show to fit the audience's mood. Mind you, the audience eventually turned on Big Brother, so reality TV doesn't have all the answers. I sure as hell don't.
Oh, and by the way, it wasn't a bad book. I'm sure if I hadn't got up for that coffee, I'd have finished it quite happily. It was more like that feeling of getting up to answer the phone near the end of a meal, and when you get back to the table, you just can't be arsed with the last couple of mouthfuls.