Over at Moviestorm Towers, we've been
thinking about hair
. We're planning a hairstyles pack, and so we've been looking at what's possible from a technical point of view, and what's desirable from the movie-maker's point of view. It's one of those issues like
grabbing a shirt
. What's simple in real life ain't so in animation, and damn nigh impossible in machinima.
OK, I might as well 'fess up. I like long hair. A lot. I find it incredibly sensual. And it looks great when photographed too. Perhaps most importantly for the film-maker, it looks amazing when it moves.
It's not just the huge movements that make the difference, although those can be spectacular. It's the small shimmers as the hair blows in the wind, or as the actress turns her head. When hair drapes over the shoulders, it completely changes the shape of the face as the head moves, obscuring different parts of the face and the light catches the hair in different ways.
However, you try doing that in machinima. It won't work. It just won't.
For a start, most hairpieces in games are pretty low-poly. They're about as much like hair as the plastic hairpieces you get on Lego characters. They don't move like real hair, they don't shine like real hair, they don't have the translucency of real hair, and they don't have all the different colours of real hair. They're basically simple blocks of stuff that look like they've been attacked with several coats of varnish. That's basically because for games, it doesn't matter too much. The gamer's attention is focused elsewhere.
In a film, however, you're much more likely to want to go to close-up, and so there's much more emphasis on making humans look right. We're not bad at faces these days, but it so often looks wrong because of the hair.
Yeah, so what about Lara Croft's ponytail or the hair in
Heavenly Sword
, you ask. Surely they're good? Well, true, they do have a basic spring mesh in, and so they do actually move. But let's just mention the dread word "intersection". Machinima really isn't sophisticated enough to replicate how hair actually moves, and really isn't sophisticated enough to model how it drapes over the human body. Watch Heavenly Sword carefully, and you'll see her hair go through her clothes, her shoulder, her legs, her weapons, and itself. It looks pretty awesome in motion when you're in the middle of a battle sequence, but watch the extracts as a piece of film and they just look wrong. With less advanced engines, like Moviestorm, The Sims, or SL, they just don't care: hair will cut through anything. And that always bugs the hell out of me.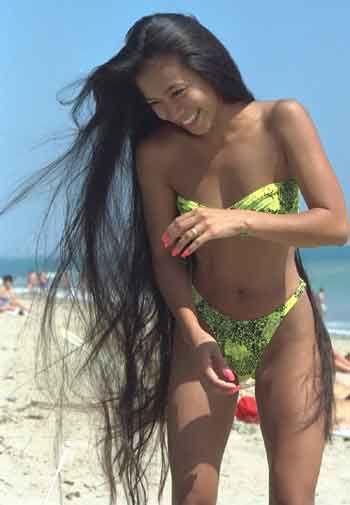 When machinima can give me hair like this, I'll be impressed. Until then, I'll always be wanting more than is technically possible. Like the
shirts
I mentioned earlier, it's even a real bastard to do with "traditional" CG animation. There are some things where actors and cameras win hands down.
Oh, and to save me writing another whole post on the subject of things you can't do with machinima: the same goes for long, flowing clothing. I like that too, and machinima just can't do it. Just replace the word "hair" with "cloth" and it's pretty much the same. Bah.
And no, I'm not having a downer on machinima. It's more that after four years working full-time in the medium, I'm getting a strong sense of where its true limitations are, and are always likely to be.